Project description
LC30F CO2 Fly Laser Printer
CYCJET LC series fly laser printer uses the US imported lasers, advanced polarizer system to ensure superior quality and high speed marking output. The entire laser system integrates a touch-screen interface, induction electric parts and lift the bracket. Sophisticated and compact design, it can be easily installed in tight spaces. LC series with high stability, reliability, mainly sued in chemical, food, beverage, pharmaceutical and other marking.

Ⅰ. General Description:
1. CYCJET Flying laser printer suitable for Plastic Pipe line laser marking, such as HDPE, UPVC/CPVC, PPR, PP Pipe, Plastic Profiles( PVC, PA66, HDPE). electronic components, electrical products, IT industry, auto parts, hardware tools products, precision instruments, gift accessories, medical equipment and other high-end products of precision, fine logo printing. Typical applications such as, plastic (PA66) insulation flying laser marking, metal plate laser marking, packing box body online laser marking, etc.
2. Well designed software & High speed hardware support the high speed inline marking, up to 200m/min, based on different materials;
3. Friendly operate interface, easy to edit message set parameters for marking;
4. Multi-Functional application, support inline marking, stationary marking. Triggered  by encoder, sensor, or closed signal from other equipment;
5. Flying laser marking machine could communicate with different equipment or platform by developed software, such as ERP system, Database, PLC etc;
6.Long lifetime;
7.Well design and production technology, high stability and less working failure;
8. Working State Alarm system;
9. Counting system;
10. Perfect cooling system, working temperature 0-50℃;
11. No consumer goods, less production cost;
Ⅱ. Technical Parameters
CYCJET LC30F FLYING LASER MARKING MACHINE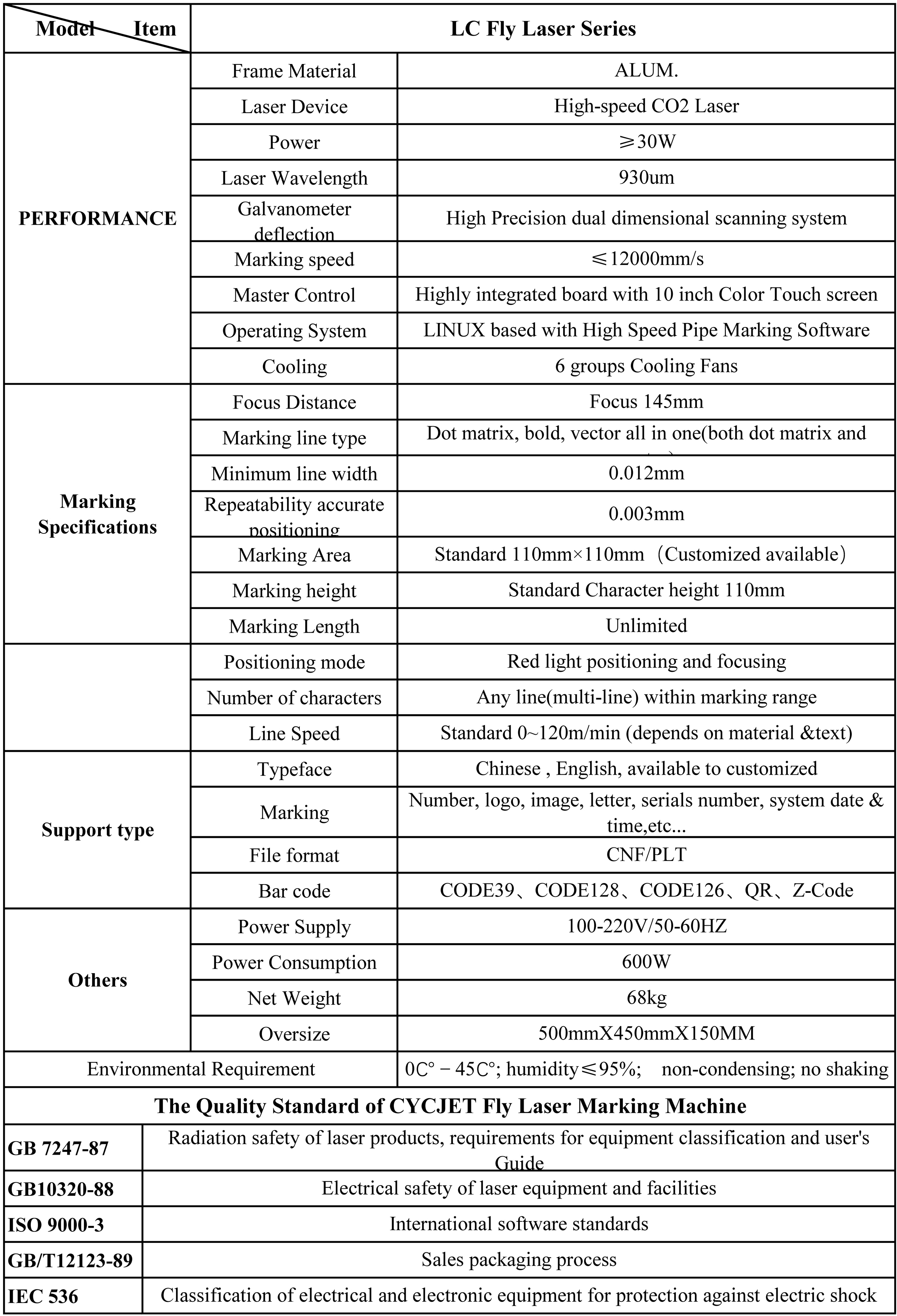 Ⅲ. Printing Show

Ⅳ. CYCJET Laser Coding Machine In The World